Moon+ Reader app for reading. You can add any files with text from the internal memory of your smartphone or download them from some electronic libraries. There is a subscription for this program with wider functionality. Its main difference from the base one is no advertising.
Features of app
This program was created with a beautiful and ergonomic design that will help you read files of any format such as txt, epub, fb2 and zip. On the bookshelf, you can indicate any books, distribute them by authors or tags and even add covers for them. If a user has too long a reading time, he can count on the Moon+ Reader app to send him an alert about harm to the eyes.
Here are some strengths of this app:
the presence of hibernation mode;
share a book function;
one-touch brightness adjustment;
online and offline dictionaries;
10 additional discounts, including day and night mode;
24 customizable components such as font size, background colour and bookmarks;
smart paragraph transfer, automatic indentation and spacing.
In addition, page views are now available in five different ways, such as touching the screen, volume buttons, camera, search and «back» button. There are five modes of flipping, such as realistic and pop-up ones.
Design
This program looks detailed and elegant. On the home screen, you will see books that you have read recently. In addition, there is a file manager, a key to the network and the «My Shelf» interface. You will no longer see your usual theme with text on a wooden board. The developer of this program avoided bright colours and as a result, we have a grey and minimalist interface. On the right, you can see the menu. Through this, you will be able to easily search books not only by author and title, but also by keys. There are also such filters as «Unread», «Read» and «Readable» ones.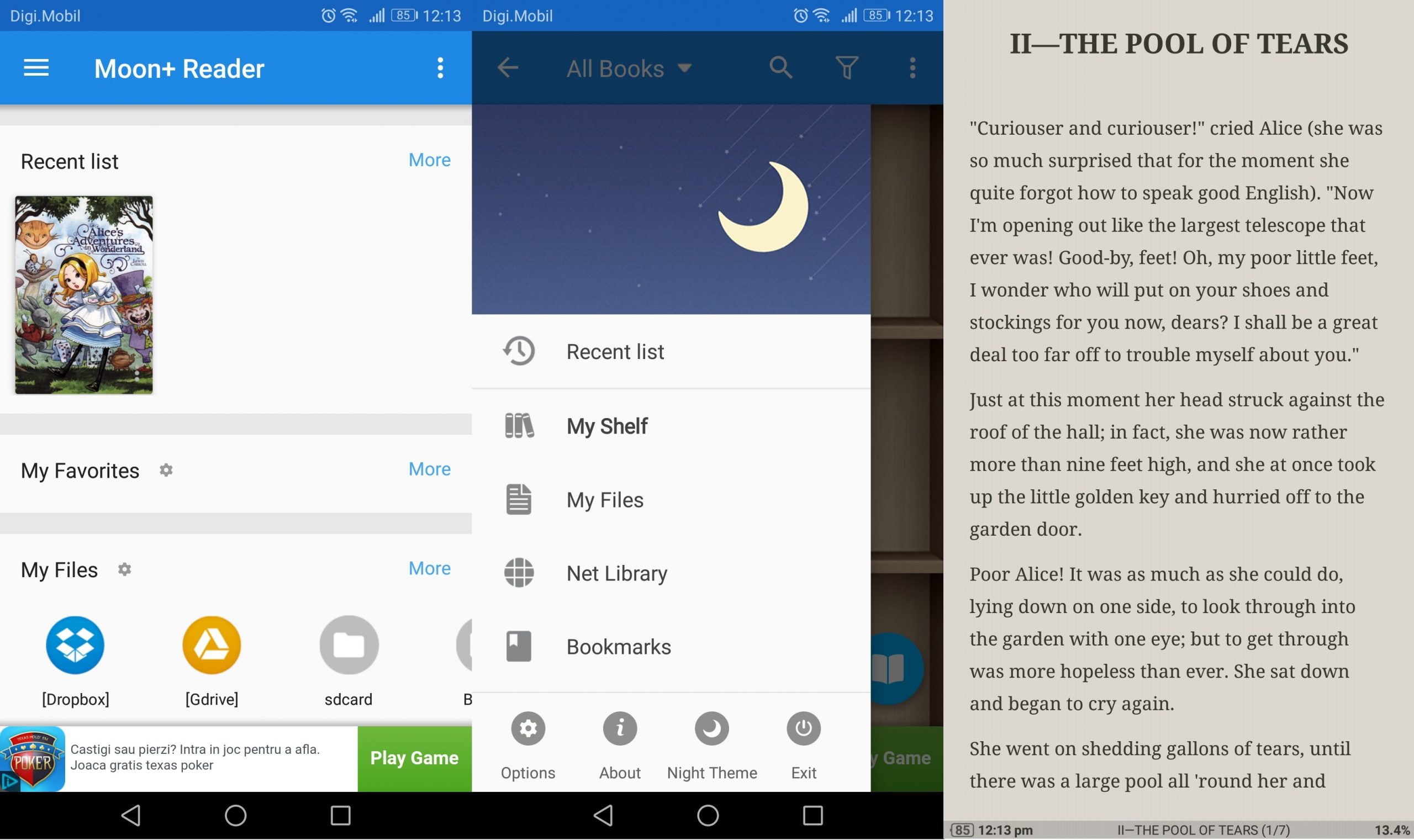 Reading mode
At the bottom, you'll see the status bar. In addition to being expressed as a percentage of the amount of text read, it also displays the charge level of the device, the time and the chapter on which you last stopped reading. At the top, you can also see the progress, book title and cursor for quick navigation. Quotations are what you can mark with different colours and accompany unique markings. The selected fragments are what you will store in the local dictionary.
The toolbar will help you change orientation (vertical or horizontal), enable day or night mode, and move to bookmarks, content and menus, and you will do so without any difficulty. Also, you will be able to immediately connect automatic page flipping. In the menu, there are options such as leaf animation and text type. When you select a font, you will see an example in the empty part of the screen.
Subscription
The main strength of this program is the lack of advertising and synchronisation of devices. Let's say the user opened the book with a tablet while at home, but during the lunch break at work, he or she decided to continue reading from a smartphone. Then, Dropbox will help him to open the novel on the previous page. There are more strengths:
widgets;
statistics;
the presence of multitouch;
work with PDF-files;
creating a password for the program;
possibility of the bookmark usage;
сontrol via headphones, including wireless ones.
Also, after shaking the phone, you can easily turn on mode of sound text reading. Those users who subscribe to this program can create shortcuts for individual books on their desktop.
Conclusion
Moon+ Reader has any of the classic book reader features and several additional options, most of which are available only to subscribed users. The main drawback of this program is that when you back up this program, you will lose your books and save only your settings. In the free version, there is an advertisement that will not interfere with comfortable reading.