There is a popular belief that Internet users do nothing but play computer games or have fun in all sorts of ways. However, according to research results, millions of people use the Internet to gain new knowledge and master different professions.
The greatest thing is that nowadays people can study online for free even in higher education institutions. The question is, how to put it into practice? And what if someone who lives far away from the USor UK wants to study at the best universities in these countries?
The Internet provides an infinite number of digital possibilities. The Coursera mobile application is ready to help anyone who wants to expand their knowledge and master useful skills. Even the name of the program makes it clear that it provides users with access to training courses.
How to Study at Prestigious Universities via the Internet
The first thing you need to do is download and install the Coursera mobile application. This educational project was conceived and created by two Stanford University computer science professors. The educational marketplace was greatly liked by both universities and businesses around the world, and today thousands of different universities and companies have already posted their educational programs on the Coursera platform.
Users can study almost any course for free. However, if they want to get a diploma or certificate, they may be required to pay. Nowadays, the most popular courses are those that allow people to get good high-paying jobsin large companies around the world, including those that offer the prospect of moving to another country for permanent residence.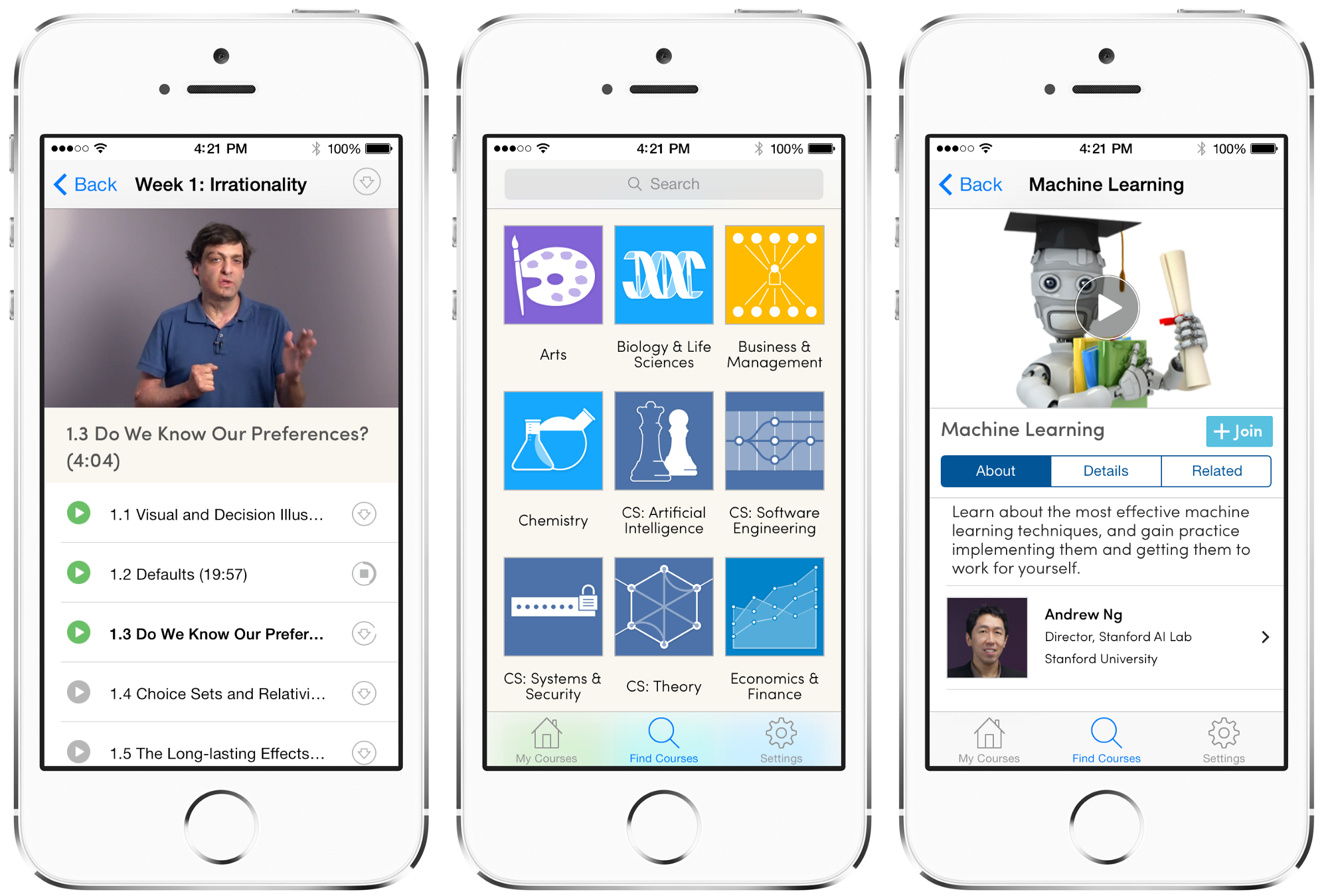 If users want to get an academic education, it is better for them to choose training courses from universities. If they plan to find a good job, then it makes sense to choose training programs provided by certain companies.
The learning process mainly consists of watching video lectures and webinars. The program also provides texts with educational materials and instructions. Most of the lectures are in English, but they have subtitles to make it easier for foreigners to understand the material. Users can download all educational content for free on their smartphone or tablet to have access to it when there is no Internet connection.
How to Choose a Course
The list of educational programs presented in the university marketplace is almost endless, which inevitably causes a problem of choice. All courses are divided into different categories and topics. People can use the filter and exclude areas of study and disciplines that they are not interested in to make it easier to find the courses they need.
The vast majority of courses are free, so users can try different ones until they find those professors and training formats that match their personality and habits and suit them best. It is important to note that the Coursera project itself does not create or place any courses in the app. Only third-party partner educational institutions and commercial enterprises that are interested in training qualified specialists do this.
The IT section contains the widest selection of various training courses. This field of activity is the most popular and in demand these days, and, accordingly, qualified and experienced specialists employed in various fields of information technology have the highest salaries today. The Coursera mobile application is a convenient way to change your life by making the best of your free time and listening to lectures by the best professors from leading universities around the world.